Many of you have heard me talk about the cottage in Maine where I spend a long weekend with my brothers each fall. Well, for the past three years I have been going to the cottage ahead of the scheduled time to spend a few restful days on my own. I am there now and will be reporting from the cottage for the next few days. Of course, I can't report directly from there because there is no electricity and thus, no internet. So my reports will be coming from Starbucks or some other place that will lend me their Wifi for a few minutes each day.
This is my morning routine: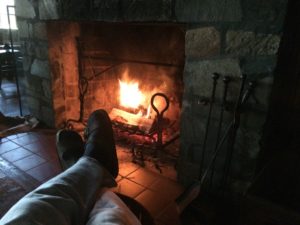 That's it. Coffee in front of the fire for an hour or two. Once that's done, I start relaxing.