So we spend the first part of our lives constructing our container of all the stuff of childhood and adolescence. We spend the next major part of our lives enhancing and promoting our container. This is our ego, our outward identity, the public self we want others to see and appreciate. It's the material about us that ends up in an obituary. "John was a psychologist at the Counseling Center. He was a member of the Presbyterian Church. He is survived by two children…"
Of course, many of us spend some time devaluing our containers, mostly during adolescent or early adulthood. Remember your rebellious time? "I hate my parents. I'm so glad I got out of that town. I'm never going back to church. I will never be a part of that system, they are all sellouts."
If we never question the value of our container, we stop growing. We live with the simplistic messages, rules of our early years. Former times become "the good old days." Family memories are all replications of the Sears studio portrait where everyone is smiling. Church remains a place of affiliation and doctrinal obedience, and our Bible knowledge never develops into an adult theology.
If we get stuck in the rebellious phase, we are stuck with the photographic negative in which nothing is good and everything is rejected. Either extreme stops our growth. We get fixed on our container and fail to pay attention to what we are putting inside.
At some point we must recognize the limits of our container without losing our appreciation for its usefulness. This doesn't happen all at once. In fact, once we begin the process of both valuing and challenging what got us to this point in our lives, the process continues for the rest of our lives. Hopefully.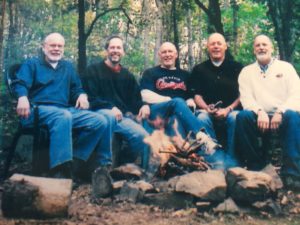 I have learned to value my container much more in the past couple of decades, much to the credit of my brothers. We spend hours around a fire each year in the fall, and much of what we do is talk. We talk about the past and our own unique memories of some of the same events. We talk about how those events affected us and shaped us. We talk about who we are as adults and how each of us got to our unique place having grown up under the same roof. All of this lends itself to appreciating our individual and shared histories, helping us articulate what we have learned from all of it, and prompting each of us to make decisions about how we live today.
Learning to truly value and to seriously question, simultaneously, is crucial in the task of distinguishing between the container and the contents. That's next.