This is the eulogy I delivered at the funeral of my mother-in-law, Patsy Wilcoxen.
When I have attended funerals of teenagers and young adults, there is always a sense of tragedy that life was cut short, so much life was left unlived.  It's unusual to have those same feelings about someone who has lived almost 86 years, and yet that is what we face today.  Up until 10 weeks ago, Patsy had lots of life yet to live.
When she first got sick, she had her bags packed with a floppy beach hat, swim suit, wraparound skirts and a well-stocked makeup bag for a week at Myrtle Beach.
She still had church choir trips to take, neighborhood parties yet to host.  She had lots of conversations at Suzanne's beauty shop yet to have, and lots of Sunday choir music still to sing.  There were flowers to be planted, dancing to be done, cousin reunions to be attended, birthday celebrations up ahead for almost everyone she knew, and Christmases with her grandkids to look forward to.  She had a long way to go before growing old.
Therefore, we are still stunned and in disbelief that someone so full of life, someone who occupied such a huge place in our hearts, someone who could fill the room with laughter and energy could be so abruptly silent.
Our faith provides us with the hope and the expectation that there is more to come when we die, and so we can celebrate the life of Patsy Wilcoxen, a life truly worthy of celebration.  But that belief does not take away immense sadness and emptiness we feel.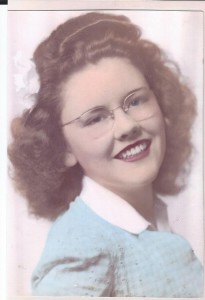 You couldn't know Patsy long without having some Patsy stories that make you laugh or make you roll your eyes.   In the past few weeks, as many of you came to visit, I watched and listened to those stories, some were new, some were oldie goldies, it occurred to me that Patsy's gift was that of making seemingly insignificant moments into memorable ones.  I don't think that is one of the spiritual gifts listed in First Corinthians, but that's probably because the Apostle Paul never met Patsy.
Think of almost any time you spent with Patsy.  If you are like me, a spontaneous smile comes to your face.  Patsy made moments memorable just by showing up.  It was simply how she lived her life, bringing delight, noise, and beauty to every situation, large and small.
It didn't matter if you were a childhood friend who'd known her for 80 years or one of her Hospice nurses who only knew her for a few weeks.  She had a way of working her way into our hearts, and sometimes under our skin.  And that's why we are celebrating today and also why we hurt so badly.
These past few weeks, her many visitors have ranged in age from 92 to 5, five generations of people whom she knew and loved, she kept up with, and who went out of their way to come and see her.
What I became aware of is that the activities that Patsy was involved in were secondary to the people she was with.  Whether she was on a boat in the Caribbean, on a bus with the choir, in a decoupage class or a Sunday School class, or in the chair at the beauty shop, the activity gave her the chance to be with people she loved.  That's what brought her joy.
In doing those things, without even trying, Patsy made herself an indispensible part of your lives, and made our moments with her memorable.  And now it's hard to imagine life without her.
When it came to her faith, Patsy wasn't too concerned about getting the doctrine just right.  Patsy lived according to the idea that an abundant life starts on the inside and finds its way out, and she did this in so many ways.  The primary way was in simply how she was around people.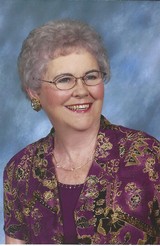 Her spiritual practice was one of joy, often expressed through music.  She loved singing on her own, singing with the church choir or singing with neighborhood friends.  She loved dancing and she listened to music all the time.
I had the privilege of singing to her in her Hospice room when it was just the two of us her last few nights on this earth.  At one point I wasn't sure she was conscious, so I said more to myself than to her, "Patsy, I wish I knew what you wanted me to sing."  Without opening her eyes and without hesitation she replied, "Anything."
She lived her faith with the volume turned up.
She also expressed her faith through beauty.  Her love of beauty could be seen in every part of her life; in her home, in the way she decorated, in her extravagant flowerbeds, in the bright colors and glitter of her wardrobe.  She wanted nothing to do with drab.  If it wasn't pretty or she couldn't make it pretty, it wasn't worth doing, planting, or wearing.
Her faith gave her the hope and the expectation that there is something beyond this life, that she would join the great collective of loved ones who have preceded her and who helped her with her transition.  But I don't think she thought much of what follows death because, frankly, she was to busy living out the phrase, "on earth as it is in heaven."
One final thing.  Despite all the joyful noise, the entertaining, the beauty, and all the things she is so well known for, I saw something in Patsy the past few weeks that I didn't know was there, courage.  Patsy has a plaque outside her front door that reads, "When you stumble, make it part of the dance."  That's what she did.  She made her diagnosis and her declining health a part of her dance.
When she was given the diagnosis of advanced cancer, a cancer that would probably not yield to treatment, she said, "I have had a great life, and I'm ready to go."  And having said that, she set about getting ready.   She did not complain about not having more time.  She did not whimper and ask, "Why me."  She didn't take her cancer personally.
She approached her death the way she lived her life–with gratitude for all the people and experience that had brought her to that point.  In her final weeks she soaked up all the beauty of her patio and the flowers she had planted for as long as she could.  She savored every moment she could with you, her friends and family.  Even when she could no longer lift her head, her eyes lit up when one of you came in the room.  She shared tender and humorous moments when she said what she knew would be her last good-bye to the two people who call her "Gran Gran."  She shared the tenderest of days and hours and last moments with Judy amidst the hard work and messiness of dying.
She walked toward her death without flinching, with her eyes wide open, with her hair done, and her makeup on.
And I can't think of a better way to conclude a life of such exuberance.