I went to a pep rally the other day.  Like any good pep rally, I heard stirring music, speakers extolling the virtues of the home team, and lots of cheering.  I saw signs and banners and shirts with slogans favoring the home team and condemning the rivals.  Rival players were vilified; their statements were taken out of context so that they became feeble caricatures.  Great fun was had at their expense.
At some point the pep rally lapsed into a revival meeting.  The speaker, "a proud Christian", characterized the struggle as one between "good and evil" and between "Christianity and humanism."  We were told to "invoke God in this fight."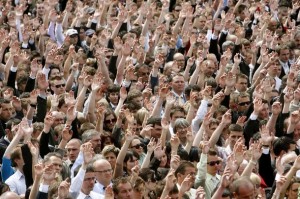 People were asked to raise their hands in support of the cause.  I refrained.  I stopped raising my hand at revival meetings years ago because it usually meant I was caught up in the moment rather than being truly committed to whatever cause the evangelist was pushing.
The pep rally/revival meeting was the Tea Party Express in Rosebud Park.  I went to see what the excitement was about.  It was interesting, but I walked away with some concerns.
For one, the general theme was, "How is all this affecting ME?"  The people on stage as well as those in the crowd appeared to be well fed and probably well insured.  Yet, there was no mention of the millions of other Americans who are not insured because they are too poor or too sick.  No mention was made of the men, women, and children living in shelters or in cardboard boxes.  I sensed no awareness in the speakers and singers that we are all connected, that the way we treat the most vulnerable in our society has an impact on each of us.  As a country, we show our moral character in how we care for the most vulnerable among us.
The crowd reacted with a boisterous "Boo" when rationed medical care was mentioned in a song.  The song failed to mention that we already have rationed medical care.  Unfortunately, care is rationed by the lowest moral denominator, ability to pay.  If you can't pay, you get limited care or no care.  If you or insurance can pay, you get all the care you and your insurance will cover.
Another significant concern was the rhetoric about being "a proud Christian American."  If you define Christianity by church affiliation, then the statement was probably true.  However, if you define Christianity as "Christ-likeness," I saw little to convince me.  The God they invoked appeared to be a rather puny partisan, nationalistic God.  No one mentioned compassion toward "the least of these," toward those who are different and marginalized, the very people to whom Jesus gave his primary focus.
This is not just a criticism of the Tea Party Express.  A liberal Democratic rally would have been the same.  Democrats would have made the same sweeping generalizations that the tea partiers made, such as "THEY want to divide the country up in red and blue states.  WE just want to be united," and  "I believe in the Constitution, THEY want to ignore it."  They would have invoked the same God to support their causes.  They would have gone for the same cheap applause.
Lots of smoke and noise, but very little fire.  Plenty of rhetoric, not much substance.  Opinions everywhere, but truth hard to find.
But of course, substance and truth are not the purposes of a pep rally.  A rally is to stir people up.  But when we leave out some basic truths about connectedness and compassion, we as a nation are diminished.  When we trot God out as a supporter of our personal causes, we reveal how small our faith really is.
Printed in the Abilene Reporter News, Sunday, November 15, 2009