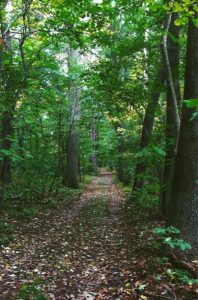 This is the road to the cottage. A small numbered sign on Old Denntt Road, visible only to those looking for it, is all that gives it away. You have to be looking for the tire ruts that simply appear between two trees, and then, by faith, you drive into the woods.
This was the vacation spot for our family every 3 or 4 years. It was a four-day drive from East Texas, but all the misery of traveling in a four-door unairconditioned sedan was worth it when we got to the road.
Viewing it from the back seat as a kid, it seemed magical. If I was lucky enough to be sitting by the open window, I could stick my head out a look up. The trees arching overhead, the alternating light and shadow, the crunch of pine cones and bark under the tires, and the smell of something earthy and coastal and unspoiled all conspired to give the impression we were entering something enchanted or haunted, but certainly apart from the rest of the world.
At night the road is unnerving. Around every curve something could be waiting. Just beyond headlights something could be watching. It's creepy but compelling.
Last year my luggage did not arrive in Boston the same time I did. I talked to the luggage clerk who assured me they would get my luggage to me the next day. "What's the address?"
I gave her the address but then added, "Your driver will not find it. The driver will need to call me when he gets to the bridge between Portsmouth and Kittery. I can talk him in."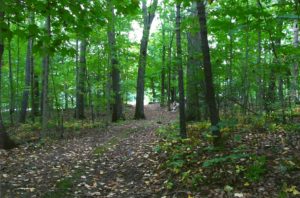 "Don't you worry. He'll find it. We have GPS and all kinds of things to get it there."
I made sure she had my cell phone number so the driver could call. The next morning, the call came in.
"Mr. Powell, I am here on Old Dennett Road. I can find the houses on either side of your number, but I can't find your house."
"You stay right there, I'll be with you in 3 minutes."
I drove to the entrance and "emerged" out of the woods. Sure enough, there was a minivan and a young man looking at me as if I had been beamed there by Scottie.
"Where did you come from?"
I explained, I thanked him, I got my bag, and he went on his way. Like I said, apart from the rest of the world.
I tried to put a video of the entire road, but too much memory was required. Sorry.