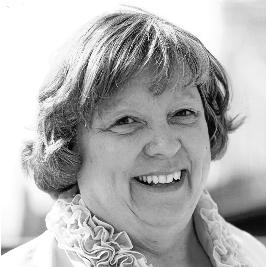 My friend, Karen, died a few weeks ago. She went in for a routine heart catheterization, an exploratory procedure prior to a scheduled open-heart valve replacement. Despite the routine nature of the procedure, she died. Despite intense efforts to revive her, she died. Despite an emergency surgery team scrambling together, she died.
Her friends who took her for the procedure, who waited patiently to take her home and put her to bed to rest, were told that they would not be taking her home. She died.
No one expected this. She certainly didn't. She was nonchalant about it when we talked a few days before. As the word of her death got out and her friends and colleagues began gathering at the hospital, all were stunned beyond words. Now, weeks later, they are still stunned, having to get back to their classrooms, dealing with the demands of teaching along with a conspicuous emptiness in their ranks.
Everyone has their own history with Karen. She left a big impression on anyone who got to know her. You never had to guess what was on her mind. You never wondered how she felt about something.
Her colleagues will never again hear her laughter, her complaining, and her wit in the teacher's lounge. When Karen was in the room at the end of an exhausting day, which in a teacher's life is every day, things were not dull.
Her third graders will not have her encouragement, her compassion, her scolding, and her knowledge; all necessary ingredients in preparing them for life, and for the even more important STARR Test, that cruel semester-consuming ordeal. She did her best each year to help them over that hurdle and onto the next step.
She will make no more exquisite quilts. One of those quilts graces the back our sofa. Her quilting buddies will no longer be able to go to her house to talk and work, or to go to Wisconsin for the Mecca of quilters, from which she always returned with more bolts of fabric than she had room for in her house.
Her horse, which she had and cared for over 30 years died last year. Her old dog also died. Her new dog, a rescue named Paisley, will have to go to a new home now.
As for my relationship with Karen, I was her handyman, the guy she called when something was not working at her house. Karen will never again brag about her two daughters to me, telling me about their careers, their houses, their families, and how they each not only survived their childhoods, they are now flourishing as adults, professionals, spouses, and mothers. I think parents are always a bit in awe when their kids do well, because we realize how little we knew as parents and how much we were making it up as we went while they were in our care.
She will not be able to enjoy the bathroom I renovated for her. I finished in July. She had only a few months to enjoy the dramatic upgrade. We had been planning on the renovation for almost a year. I kept putting her off because of other pressing work. Her tiny bathroom was carpeted, and mildewed. Several squares of tile in the tub area had fallen off years before. She kept the hole covered with plastic and duct tape. When a whole section of tile fell off, we both knew it was time.
I gutted the room, knocked out a wall and pushed it back 14" to give her a spacious shower. New everything. She chose bright white subway tile, expensive shower fixtures, and an elegant toilet, new floor tile, a frameless shower door, the works. I knew she couldn't afford a carpenter, plumber, electrician, drywall guy, and tile guy, so I told her what I would do the job for, and she could make monthly payments to me.
I'm sorry she only got to enjoy the bathroom for a few months. I'm sorry I won't get to remodel her kitchen or build shelves for her bolts of quilting fabric, all the while her telling me far more than I needed to know about whatever was on her mind. But that was part of the package, that's what made working for Karen interesting.
But my loss is small potatoes. How much more tragic that she can't enjoy the more important parts of her life, her family, friends, colleagues, and students, and that they will no longer have those moments with her.