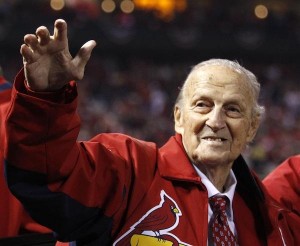 The world lost a legend this week.
And I lost a personal hero.
Stan Musial, baseball Hall of Famer and unquestionably one of the greatest players of all time died quietly at the age of 92.  He was also unquestionably one of the best people who ever played the game.  He was a pillar of grace, humility, and integrity, increasingly rare qualities in professional athletes.
Many who knew him better and followed his career more closely have already written about Stan as a player and as a person.  What impresses me is the consistency of the praise about his professional abilities and his personal character.  I can't add to those writings with any credibility.  I can only add my two personal stories.
As a young boy, the Cardinals were the closest baseball team to my home in East Texas.  The Dodgers and the Giants had moved to the West Coast only a few years before I started paying attention to baseball, but they were still a world away.  The Braves were still in Milwaukee.  And besides, my Dad was from St. Louis.  We went there on vacation every couple of years to visit my grandparents, so rooting for the Cardinals a natural act.
I admired Stan Musial from the time I started paying attention to baseball.  I had his 1958, 1959, and 1960 baseball cards, the three most prized in hundreds of cards.  I had Mickey, Willie, Duke, Yogi, Hank, Ted, and all the other greats of the day, but Stan's cards were my favorite.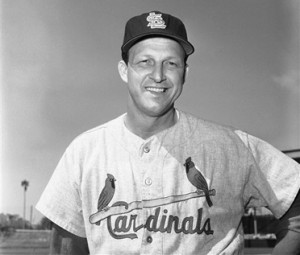 Needless to say, I was pumped the day my Dad took my older brother and me to Sportsman's Park to see my first major league game.  By the time we reached the top of the ramp to get to our seats, the game had started.  Top of the first.  At the top of the ramp, as I took in my first look at a major league field, I heard the crack of the bat.  The batter hit a screaming line drive to right field.  That was Stan's position!  He'd spent the first part of his career at first base.  Now in the second half of his career, he policed right field.  Stan got a quick jump and charged the ball, hoping to make a shoestring catch.  But he mistimed it and the ball scooted under his glove and rolled to the fence.
I couldn't believe it.  My hero, the first time I laid eyes on him, had committed an error.  Fortunately, I was so excited about being at the game, seeing my team and my hero, a simple error was not going to dampen my spirits.  Everyone makes an error.  No one has a 1.000 fielding average.
My second encounter with Stan was more personal.  He had been retired more than 20 years when he was invited to Champaign, IL to promote a new baseball card shop opening.  He would be there to sign autographs, and I was not going to miss that.  I showed up early that Saturday morning and found that a line of middle-aged guys along with their sons had already begun to form.  I brought with me my three Stan Musial baseball cards.  I would buy a baseball and pay the required fee to have him sign the ball and one of my cards.  My task for the hour of waiting was to decide which card I would have him sign.
He arrived wearing a plaid sport coat.  His hair had thinned but he still looked fit enough to play a couple of innings.  As usual, he was all smiles.
Immediately I was 10 years old again, all nervous, excited, and scared of looking foolish.As the line moved, I decided to have him sign my 1960 card.  That one had the clearest picture of him and gave the best space for an autograph to stand out.  Suddenly there was no line in front of me.  I stood in front of the table, and behind the table sat Stan Musial.  He looked up, smiled, saw the ball in my left hand, then noticed the three cards in my right hand.
"So you're a collector, huh?"
What I wanted to say was, "No sir, I'm not a collector.  Collectors collect for investment purposes.  I've had these cards since I was 10 years old.  Of the thousands of cards I own, these are my most prized cards.  You were my hero growing up, and it is such an honor to meet you."
That's what I wanted to say.  I have a doctorate in psychology.  I have spoken eloquently in front of large crowds and dealt with numerous stressful situations.  I knew how to handle moments like this.  And yet, with all that in my favor, with all I could have said and all I should have said, I was no longer a professional, no longer an adult with life experience.  I was 10 years old and standing in front of Stan Musial.
So I said, almost inaudibly, "Yeah."
He signed them, handed them back, and smiled.  I smiled back.  I may have said, "Thank you."  I don't remember.  The world was spinning too fast and my mouth wouldn't work.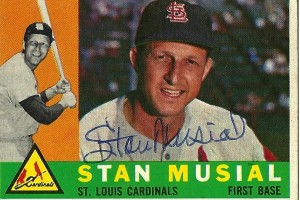 This is my card.
Wow.