During spring break a few years back, my family and I spent a few days over at Turkey Run State Park in Indiana.  One afternoon, we decided to drive around that area just to look at the countryside, see a few covered bridges and whatever else we might discover.  Judy commented that she had read about a monument in the area commemorating the birthplace of some famous baseball player with three fingers.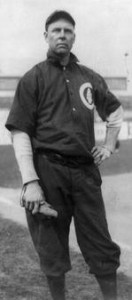 "Oh, Mordeciah Brown," I responded.  She rolled her eyes and said, "I knew you would know who it was."  My family has learned to humor me on occasions and allow me to drive off the main road in search of such monuments.  We drove through the almost nonexistent town of Nyesville, Indiana, the birthplace of Mordeciah "Three Fingers" Brown.  After passing it twice, we found the monument amidst rusting farm implements and a barn in the later stages of falling down.  In a large granite block was etched a picture of Brown and a brief history of his early life in Nyesville and his Hall of Fame life in baseball.  We read how that very spot was where his childhood home once stood and how he had his hand mangled in a corn grinder when he was 7 years old.  That injury, however, contributed to his becoming one of the best and most feared pitchers of his day.  We took some photographs to prove that indeed we do these sort of things, and we were then on our way.
I like paying attention to places that are in themselves insignificant, but they mark the spot where something significant took place, where something happened that changed someone's life.  It is both humbling and hopeful to see places that were the inconspicuous beginnings of something big.
We all have places like that.  I have a boat dock on a small lake in East Texas, a spot under an interstate overpass in Waco, Texas, a living room in South Austin, a bar in Hoopeston, Illinois.  All are ordinary places where the usual things in life take place.  But they, and dozens others like them, are places where significant things happened to me.  Some of those moments were joyful, some were painful, but they were each formative.  I walked away from those landmarks in the middle of nowhere different than when I showed up.